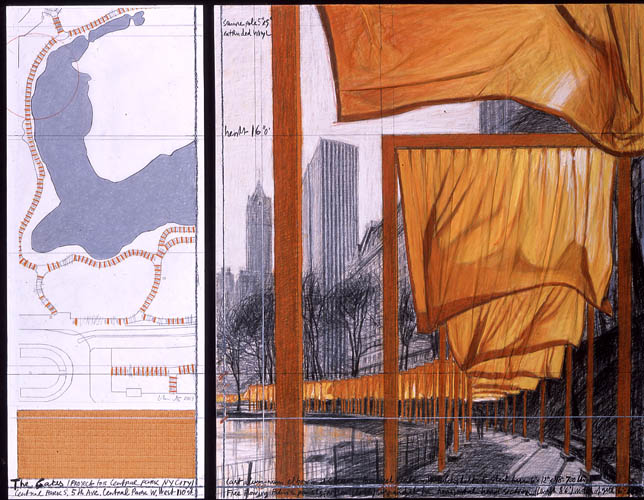 I don't want to talk too much about this. You need to see it to believe it. The artist couple Christo and Jeanne-Claude have today seen the realization of a project they've been working on since 1979: The Gates. Imagine 7,500 metal frames with free hanging saffron textile 'curtains' gently swaying with the wind, meandering through the pathways of New York's Central Park.
At this time of winter, the trees are totally barren. So the timing is perfect for this.. what can you call it.. environmental sculpture, installation, landscape painting. It's really amazing.
And just in case you've been living on Mars (at least art wise) for the past decade or two.. yes these are the same people who wrapped the German Reichstag in cloth and ropes, covered whole island beaches in pink, installed miles of umbrellas in two valleys in Japan and the US.. the list goes on and on.
'The Gates' cost 21 Million dollars to be realized. And now get this: What is truly amazing about Christo and Jeanne-Claude is that refuse any financial assistance for the realization of the their mega works. Their primary source of income is the sale of sketches, paintings and collages of their projects before realization.
On their site, they currently want people of buying fake tickets to see 'The Gates". It's completely free of charge and there are no tickets or invitations. It's truly public art (funded by those who can afford to pay for the sketches. Clever, huh?).
Now why does a project like this take 26 years to complete? Well, mainly because the artists have to usually go into a lengthy process of convincing, lobbying and fighting with the local authorities to obtain permits.
But NYC's major Bloomberg seemed like a happy man toady. He announced that the project will generate 80 Million US$ in economic activity.
The work will be displayed only for 16 days.. after which it will be recycled! So if you're in or around NYC go and have a look!